Revolutionary Design
Even temperature distribution and a minimum of pressure points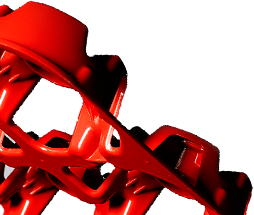 Saves energy
Saves up to 25% energy on existing solutions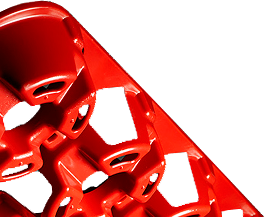 ---

Saves time
Up to 40% less freezing time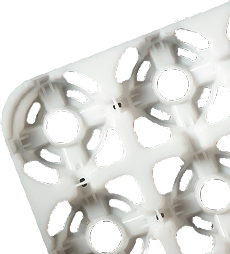 Maximum quality
Minimum deterioration and minimum drip loss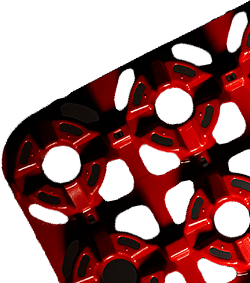 ---

Safe
Designed to ensure stability when stacked high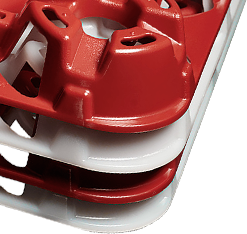 Hygienic
The design and a special industrial washer ensure optimal hygiene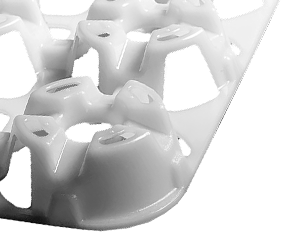 ---
Plastic Frost
The Optiflow Freezer Spacer now travels across the globe. Plastic Frost is known for being a reliable and well-informed supplier of Plastic Freezer Spacers. No surprises, no tricks, just proper innovative products.
Plastic Frost products are manufactured in first-class production facilities. We take the latest production technologies as a starting point and know the ins and outs of the entire supply chain. Our knowledge of the industry allows us to know what will work in your situation – and more importantly – what will not.
We are proud of our past and excited about our future.
What offers the Optiflow Freezer Spacer in your supply chain?

The revolutionary Plastic Frost concepts allow you to quickly reach the low blast freezer temperatures desired for meat, fish and poultry with minimal contamination and minimal damage to packaging and end products.
Plastic Frost is convinced that the key to the perfect freezing process lies in finding the right Freezer Spacers. This will ensure the right quality of the goods, safe and stable pallets during transport and the best possible freezing performance for both you and the end user.
Very few consider product packaging to be an important aspect of their supply chain, but we do. The transport, freezing and storage of meat, fish, poultry and related products consist of several small steps, all subject to a variety of risks. Examples of problems that may occur with packaging before, during or after this process are: torn packaging, contaminated and leaking packaging and inaccurate end temperatures of the frozen products. Often these symptoms are a result of a freezing process that does not properly tie in with the rest of the supply chain.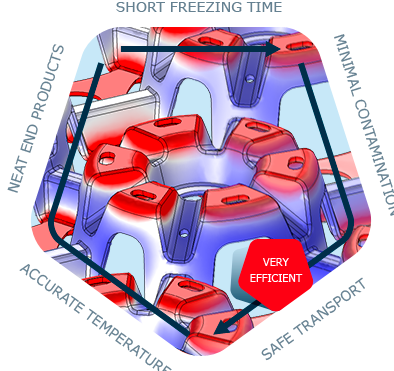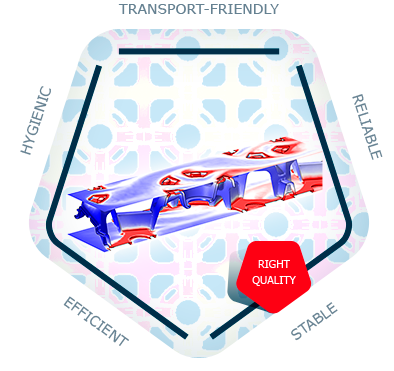 Our tailored solution for your requirements
Our goal is to offer the right product for the right purpose and suitable for your specific freezing situation.
We achieve this goal by applying the expertise and practical experience we have gained over the years. We have designed our Freezer Spacer to be stable during transport, to be efficient and to preserve quality during the freezing process, and to allow for easy cleaning.
Our products utilise technologies that increase user-friendliness, efficiency and reliability. One of these unique qualities is a more evenly temperature distribution between the first and last row of the freezer as well as minimal temperature differences between the individual pallets. This allows for savings in freezing time of up to 40% and energy savings of 25%. Another aspect is the sturdy structure of the Freezer Spacer, which provides stability and reduces pressure, ensuring the product retains its original level, quality and shape. The Freezer Spacer is ideal to combine with the specially developed industrial washer equipment and contributes to optimal hygiene.
We believe that the success of our concept lies in the added value of our innovative technologies and the expertise of our team of innovative professionals.
Plastic Frost is the revolution in packaging, freezing and transporting products.



Optiflow Freezer Spacer®
The Optiflow freezer spacer is a plastic interlayer that evenly distributes temperature controlled air between stacked cartons. Its computer aided and revolutionary design supplies optimised air flow, shape stability,durability and hygiene.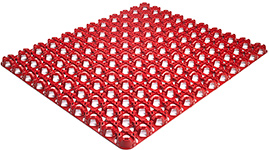 Optiflow Freezer Spacer 1000
Material:
HDPE
Food approved:
Yes
Temperature resistant:
- 60 °C / + 80 °C
Dimensions:
1000 x 1200 x 35 mm
Maximum loading capacity:
7.500 kg
Warranty:
60 months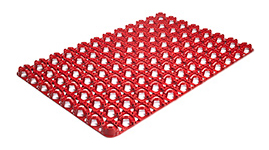 Optiflow Freezer Spacer 800
Material:
HDPE
Food approved:
Yes
Temperature resistant:
- 60 °C / + 80 °C
Dimensions:
800 x 1200 x 35 mm
Maximum loading capacity:
7.500 kg
Warranty:
60 months
---
Packing
150 pieces are stacked on a wooden one-way pallet. Each stack is wrapped in stretch film. The height of the stacks is 2,35 m, including the pallets. The weight of a stack of spacers is 390 +/- 5kg for the euro and 520 +/- 5 kg for the block model.
Cleaning instructions
The Optiflow can easily be cleaned with a standard detergent. Thanks to its open structure they will quickly dry. For large volumes an industrial washing machine with a capacity of 100 spacers per batch has been designed.
Storage
No specific storage conditions are applicable. A well ventilated area, away from direct sunlight, is preferred.
---
Intended use
When building a pallet, it is recommended to place a spacer between the pallet and the first layer of cartons in order to optimise the flow of air. Subsequently, a spacer is placed each time between two layers of cartons.
If the size of the cartons allows this, it is best to maintain some sideward space between the cartons. Finished stacks can be stabilised with one or more bands. Do not wrap with film before the desired temperature is reached, as this will impede the flow of air.
The maximum bearing capacity of the spacers is 7500 kg at a temperature range between minus 60 to plus 80 degrees Celsius.
The design of the spacers provides the user flexibility with regards to the arrangement of pallets in the wind tunnel, as the flow of air works from four sides. In general it is recommended to limit the space around the pallets, in order to create turbulence around the cartons.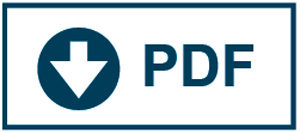 Material and manufacturing
Optiflows are injection moulded with virgin, food graded and optionally pigmented polyethylene (HDPE). Plastic Frost guarantees that every Optiflow will be free of material and manufacturing defects for a period of at least two years after date of purchase or they will be replaced.
Colouration and/or the application of a logo is possible on demand.
The material complies to safety regulations according to guideline 10/2011. Manufacturing complies to Direction EU Nr. 2023/2006. The product is traceable according to EU guideline 1935/2004. Migration tests have been performed according to EC regulation 97/48/C.
For more details on compliance to local guidelines, please contact your local dealer or the Plastic Frost office.


Transoplast Group
Diepenbekerweg 30
3500 Hasselt
Tel: +32 (0)11 235 450
Tel: +32 (0)471 31 14 47 (Français)
Contact: Johan Van Looy
E-mail: van.looy@transoplast.be
Web: www.transoplast.be

Alfa Argentina S.A
Perdriel 1559, Barracas
C1279AHK, Buenos Aires
ARGENTINA
Tel: +54 11 43012639
Contact: Hipolito Nuñez
E-mail: hipolito.nunez@alfaargentina.com
Web: www.alfaargentina.com

OSAB Livsmedelsmaskiner AB
Veddestavägen 15 B
SE-175 62 Järfälla
SWEDEN
Tel: +46 (0) 8 760 03 70
Mob. +46 (0) 70 497 2 38
Contact: Susanne Sjögren
E-mail: info@osab.com
Web: www.osab.com

Transoplast GmbH
Groendahlscher Weg 87
46446 Emmerich
GERMANY
Tel: +49 (0)2822 9778 55
Contact: Falk Gendritzki
E-mail: gendritzki@transoplast.de
Web: www.transoplast.de

Alfa Chile
Chañarcillo 668, Maipu
Santiago
CHILE
Tel: (+56) 22 8899 086 / (+56) 99 9990 556
Contact: Orlando Gonzalez L.
E-mail: ogonzalez@alfachilena.cl
Web: www.alfagroup.cl


Conductive Kft.
Ipari park, Szilas utca 5
H-2142 Nagytarcsa
HUNGARY
Tel: +36 20 239 65 63
Web: www.conductive.hu




Toulex Europe bv
Voltastraat 60
7006 RW Doetinchem
THE NETHERLANDS
Tel: +31 (0)65 268 77 92
Contact: Frank Leuver
E-mail: frank.leuver@toulex.eu
Web: www.toulex.eu
Sumadija Omega d.o.o.
Predraga Markovića Alimpija 31
11507 Piroman
SERBIA
Tel: +381 69 333 74 00
E-mail: office@sumadijaomega.co.rs
Web: www.sumadijaomega.co.rs

EVOPACK SOLUTIONS.SL
C/Mallorca 272-276
08037 Barcelona
SPAIN
Tel: +34 932155872
Contact: Nacho Vazquez
E-mail: nacho@evopack.net
Web: www.evopack.net